Sweating but no odour!
A new morning ritual!
By simply applying OY Deo Wash or Scrub on dry skin and letting it work for one minute, you can enjoy unknown freshness the entire day.
OY Deo Wash : for sensitive armpits and skin folds
The soft soap ensure:
dee cleansing of the pores
an optimization of the skin flora.
The fragrance "Havana" has a variety of tones such as wood, peppers, citrus, sage, thyme and cardamom. The aroma makes you think of a carefree beach and the rich history of Cuba with salsa and cigars.

---
OY Deo Scrub : for unshaven armpits and feet
The natural scrub particles are perfect for thoroughly cleansing feet and hairy armpits.
Removes dead skin cells between the toes
Removes bacteria sticking to armpit hari.
The fragrance "Marrakech" is rich in tones of eucalyptus, rosemary, oranges and other spices. Marrakech makes you recall a luxurious spa treatment with massages, sauna,…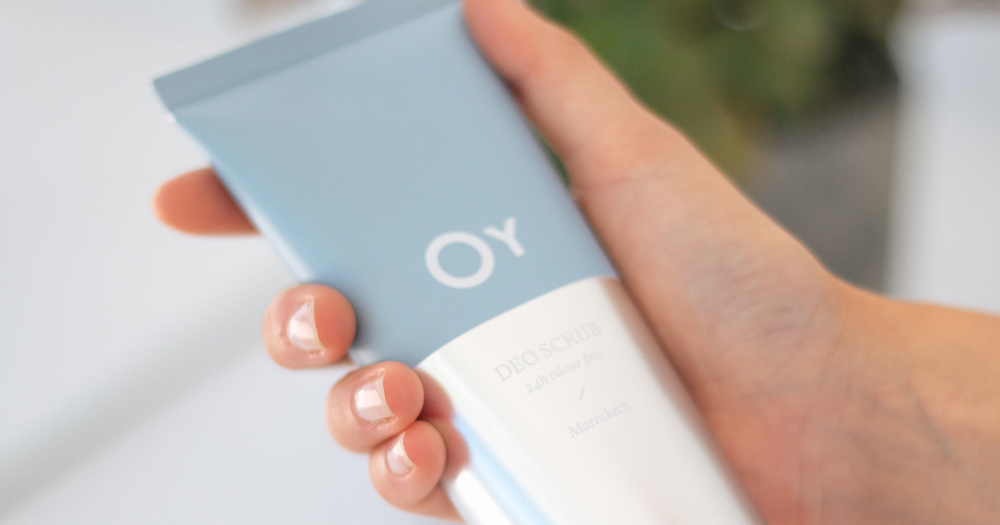 Do you feel yourself limited by the annoying smell of your sweat?
You can solve this problem once and for all with OY Deo Wash and Scrub, you will feel confident again in life.
Convenient 2-in-1 formula: a deep cleansing soap with a deodorizing effect that permanently treats the production of odours.
Optimization of the skin flora.
The ph-value of the skin isn't affected.
Allows natural sweating.
Applied locally in the problem zones: armpits, feet and skin creases.
---

How it works
OY contains a scientific formula that completely neutralizes the activity of the micro-organisms that produce bad scent.

Sweating but no odour
Sweat in and of itself doesn't smell and is even useful to cleanse the pores. That's why OY focusses on the combat against the unwanted odors. It's the micro-organisms (Corynebacterium, Staphylococcus, Propionibacterium, ...) that can be found in skin folds and that by influence of other external factors (such as stress) overgrow and create the "sweat odor". Actually, we should talk about a "bacterial smell" rather than a "sweat smell".
Lasting results
Use OY every morning and those annoying smells are gone for at least 24 hours. Apply it before taking your shower on dry skin and after rising it off you can enjoy your day being fresh and without worries. Even more, there are no yellow "circles" of sweat on your clothes and they remain fresh for a longer period of time. It's the same as cleaning your teeth daily for a fresh mouth, OY provides fresh armpits and feet.
No side-effects
OY is safe for people with a sensitive skin.
It doesn't contain parabens or preservatives and it is completely bio-degradable.

Scientifically substantiated
The three main focusses of how OY works:
The antibacterial mix focusses on the bacteria that create odours. This mix attacks the outer layer and not the DNA of the bacteria. This ensures that there isn't any resistance built up. So, OY stays effective even after long term use.
Our vegetable oil creates an attachment to the skin, cleanses the pores and feeds the skin.
Our moisturizing component hydrates the skin intensely. Clinical tests show that after 8 hours after applying OY, the skin is still fully hydrated.